ZytoLight ® SPEC NTRK3 Dual Color Break Apart Probe
The ZytoLight ® SPEC NTRK3 Dual Color Break Apart Probe is designed to detect translocations involving the chromosomal region 15q25.3 harboring the NTRK3 gene. Translocations affecting the NTRK3 gene have been reported in several cancer types, including glioblastomas, Philadelphia chromosome- like acute lymphoblastic leukemia, congenital fibrosarcomas, cellular mesoblastic nephromas, acute myeloid leukemia, radiation-associated thyroid cancer, secretory breast carcinoma, and mammary analog secretory carcinoma of the salivary gland. The treatment of patients with NTRK1, 2, or 3 fusion-positive cancers with an NTRK inhibitor, such as the FDA-approved drugs larotrectinib or entrectinib, is associated with high response rates, regardless of NTRK gene, fusion partner, and tumor type.
---
Probe Maps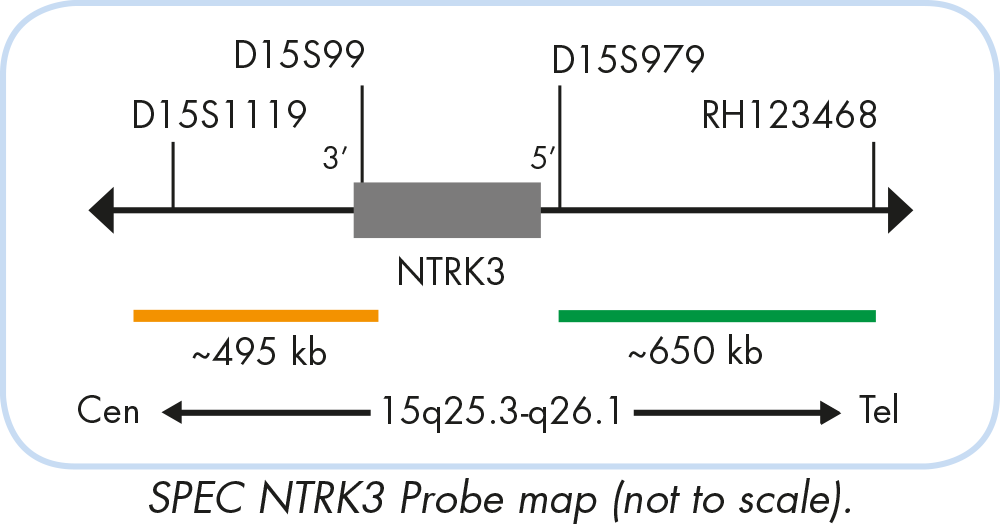 ---
Ordering Information
Prod. No.:
Tests¹ (Volume):

Registration Status²

:
Z-2206-50
Z-2206-200
---
Download Information
---
1

Using 10 μl probe solution per test.

2

In vitro diagnostic medical device according to EU directive 98/79/EC.
CE IVD only available in certain countries. All other countries research use only!
Please contact your local dealer for more information.