ZytoLight ® SPEC NR4A3 Dual Color Break Apart Probe
The ZytoLight SPEC NR4A3 Dual Color Break Apart Probe is designed to detect translocations involving the chromosomal region 9q22.33-q31.1. The most frequent reciprocal translocation is t(9;22)(q22.3-q31;q12.2) found in about 70% of EMC generating a EWSR1-NR4A3 fusion gene in which the 3'-terminal part of EWSR1 is replaced by the entire NR4A3 gene. EMC is histologically characterized by a mixture of cellular and myxoid stromal components, making it difficult to distinguish it from other benign or malignant mesenchymal tumors.
---
Probe Maps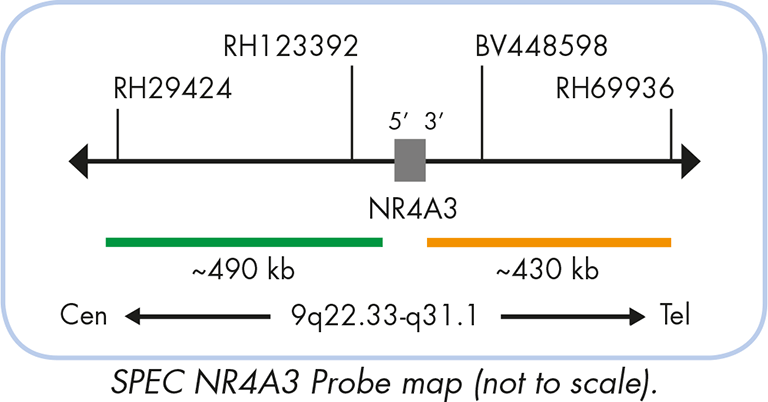 ---
Ordering Information
| Prod. No.: | Tests¹ (Volume): | Intended Use²: |
| --- | --- | --- |
| Z-2145-50 | | |
---
Download Information
---
1

Using 10 μl probe solution per test.

2

CE IVD only available in certain countries. All other countries research use only!
Please contact your local dealer for more information.