ZytoLight ® SPEC CBFB Dual Color Break Apart Probe
The ZytoLight ® SPEC CBFB Dual Color Break Apart Probe is designed to detect rearrangements involving the CBFB (core-binding factor beta, a.k.a. PEBP2B) gene. The chromosomal aberrations inv(16)(p13.1q22.1) and the related translocation t(16;16)(p13.1;q22.1), which have been detected in about 10% of patients with AML, lead to the fusion of the CBFB gene with the MYH11 gene. AML patients with these genetic rearrangements have a favorable prognosis. Inv(16) may sometimes be difficult to identify using conventional cytogenetic analysis. Accordingly, FISH proved to be a reliable method overcoming this problem and might consequently be a helpful tool to predict the prognosis of AML patients.
---
Probe Maps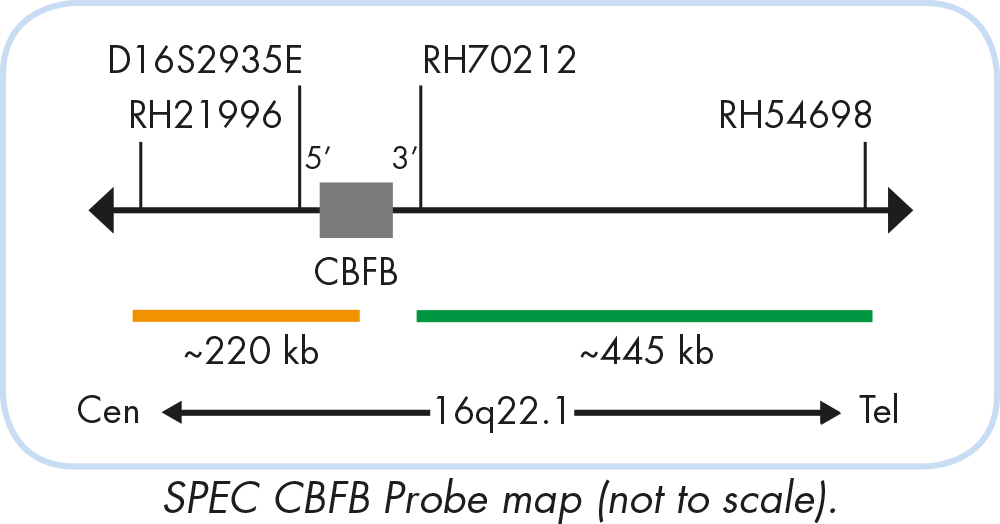 ---
Ordering Information
Prod. No.:
Tests¹ (Volume):

Registration Status²

:
Z-2207-50
---
Download Information
---
1

Using 10 μl probe solution per test.

2

In vitro diagnostic medical device according to EU directive 98/79/EC.
CE IVD only available in certain countries. All other countries research use only!
Please contact your local dealer for more information.