ZytoLight ® SPEC FGFR1 Dual Color Break Apart Probe
The ZytoLight SPEC FGFR1 Dual Color Break Apart Probe is designed to detect rearrangements involving the chromosomal region 8p11.23-p11.22 harboring the FGFR1 gene. Translocations affecting FGFR1 are hallmarks of the 8p11 myeloproliferative syndrome also known as stem cell leukemia/lymphoma syndrome, an aggressive stem cell myeloproliferative neoplasm that is associated with eosinophilia, poor prognosis, T-cell lymphoma, and frequent progression to acute myeloid leukemia.
---
Probe Maps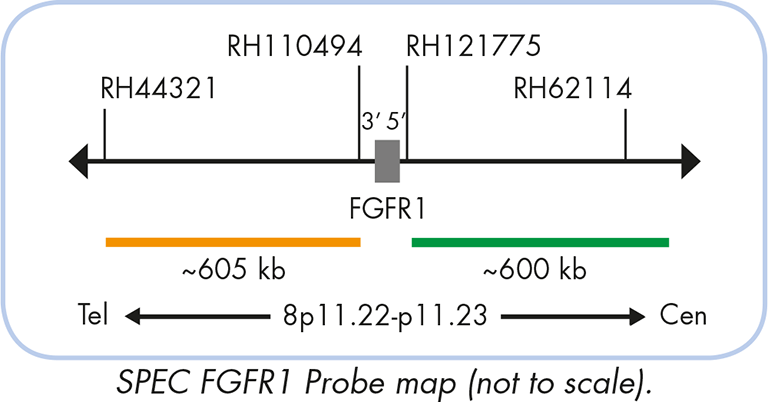 ---
Ordering Information
| Prod. No.: | Tests¹ (Volume): | Intended Use²: |
| --- | --- | --- |
| Z-2168-50 | | |
| Z-2168-200 | | |
---
Download Information
---
1

Using 10 μl probe solution per test.

2

CE IVD only available in certain countries. All other countries research use only!
Please contact your local dealer for more information.